See, earlier To End "Unaccompanied Minor" Scandal, Start Deporting Illegal (And Irresponsible) Parents
Attorney General Jeff Sessions' immigration enforcement speech on Monday got a lot of attention in the open-borders crowd for his suggestion that smuggled kids would be separated from their parents — oh, the cruelty!
None of these concerned liberals seems to notice that shlepping kiddies for thousands of miles to cross the border illegally is a dangerous activity. Any American parents who toted their toddlers around on the top of a train would be hauled into family court and likely lose custody, but it's no big deal when the perps are "immigrants."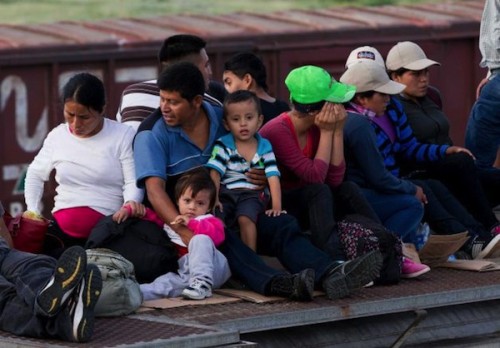 Last July, the Guardian reported that "three Guatemalans, including two children" drowned trying to swim the Rio Grande.
Another Guardian story captioned the body in the photo below as a "suspected migrant" even though the remains appear child-sized.
But despite the obvious danger to children, AG Sessions is a meanie in the eye of the media for removing kids from irresponsible illegal alien parents.
The LA Times had a tear-jerk photo on its Tuesday front page, but at least noted in the caption that not all kids belong to the adults with whom they are traveling. And that situation is the source of another danger to children, that of sexual abuse.
Children are likely to be separated from parents illegally crossing the border under new Trump administration policy, Los Angeles Times, May 7, 2018

All immigrants who cross the border illegally will be charged with a crime under a new "zero tolerance" border enforcement policy, Atty. Gen. Jeff Sessions said Monday, launching a crackdown that could overwhelm already-clogged detention facilities and immigration courts with hundreds of thousands of new cases.

Sessions also said that families who illegally cross the border may be separated after their arrest, with children sent to juvenile shelters while their parents are sent to adult detention facilities. Until now, border agents tried to keep parents and their children at the same detention site.

The new policy is expected to send a flood of deportation cases — and legal challenges — into federal courts. It also could put thousands more immigrants in detention facilities and children in shelters, and is likely to strain an immigration system that has struggled to keep up with a surge in enforcement under President Trump. Until now, individuals apprehended while crossing illegally were often simply bused back over the border without charges. That was especially common for people without criminal records or previous immigration violations.

"This border is not open. Don't come unlawfully…. Make your claim. Wait your turn," Sessions said Monday, speaking to reporters at Border Field State Park, which straddles the U.S.-Mexico border near Imperial Beach in San Diego County. "We cannot take everyone on this planet who is in a difficult situation."

"If you are smuggling a child, then we will prosecute you and that child will be separated from you as required by law," Sessions said earlier Monday in Scottsdale, Ariz. "If you don't like that, then don't smuggle children over our border."

Families seeking asylum and presenting themselves at official U.S. border crossings will be allowed to stay together as they seek protected status, according to a U.S. official familiar with the new policy.

But asylum seekers caught crossing illegally will be charged with a crime and their children sent to refugee shelters, even as agents conduct the legally required interview to evaluate their asylum claims.

Sessions said that no blanket policy would mandate separating all parents from their kids, but acknowledged that such cases would increase under the new rules.

"We don't want to separate families, but we don't want families to enter the border illegally," Sessions said. "We urge them not to do so."