[VDARE.com Note: George Will left the Republican Party after Donald Trump referred to a Mexican-American Judge as a "Mexican Judge." Even though Judge Herranz, below, is presumably an American judge, and may not even be considered a Mexican by Mexican law, we're hoping that more useless pseudoconservatives will be inspired to quit the GOP.]
This event is of no surprise to me. The press is full of stories of local judicial officers angry that Federal agents are arresting illegal aliens in courthouses. Barack Obama was working on orders to U.S. Immigration and Customs Enforcement (ICE) Enforcement and Removal Operations (ERO) to stop arresting illegal aliens at courthouses. In fact, the orders went out, but were for the most part ignored by ICE ERO in an act of patriotism, and self-interest as arresting illegal aliens in courthouses is much safer for the arresting Deportation Officers than doing so on the streets.
Mexican Judge Monica Herranz, Lawless Aider Of Illegal Aliens
And this courthouse issue seems to be a specialty of Mexican judges and administrators. First Oregon:
A judge has been accused of helping an illegal Mexican immigrant escape a courtroom where immigration officials were waiting to arrest and possibly deport him.
Diddier Pacheco Salazar, 22, appeared before Judge Monica Herranz to plead guilty in a DUI case on January 27 in Multnomah County, Oregon.
Salazar entered the courtroom with his lawyer but never came back out again. Every courtroom in the Multnomah County Circuit Court has three doors - one for the public, a private judge entrance and one for inmates to be brought in from jail.

[Oregon Judge Is Accused Of Helping Illegal Immigrant Drunk Driver ESCAPE From Her Courtroom While ICE Agents Waited Outside To Deport Him To Mexico, by Emily Crane, Daily Mail, March 2, 2017]
Herranz is a member of a racist Hispanic legal organization dedicated to infiltrating the legal system and discriminating against White Americans.
Williams told KOIN the only explanation was that Herranz - who is on the board of the Oregon Hispanic Bar Association - or a member of her staff helped Salazar to leave through another door. ICE agents brought the matter to Williams after the incident allowed Salazar to evade the immigration officials.
Not surprisingly, the
illegal alien friendly DHS Secretary, John Kelly,
did not instruct ICE ERO to file a criminal complaint with the U.S. Attorney's Office.
ICE agents decided not to pursue a criminal investigation against Judge Herranz, but she is being investigated internally by Chief Judge Nan Waller.
Nor has Attorney General Jefferson Beauregard Sessions ordered the U.S. Attorney for District of Oregon,
Billy Williams
, an Obama appointee and holdover who has not been dismissed by President Trump, to charge Herranz for violating
Title 8 United States Code Section 1324, Harboring Illegal Aliens
.
Herranz is now under internal investigation after U.S. Attorney Billy Williams accused the judge of letting Salazar leave through her private entrance after staff realized immigration and customs enforcement agents were waiting for him.
Billy Williams says it is only unprofessional for Herranz to aid illegal aliens. It is clear that he does not care about Federal crimes, which is unusual for a United States Attorney.
Billy Williams, Obama Appointed U.S. Attorney Who Refuses To Prosecute Fellow Lawyer
In a similar case, local Democrat court officials are up in arms that ICE ERO arrested a mentally ill man claiming to be a woman, who was also a convicted felon and illegal alien, and later indicted for a massive mail fraud scheme.
A woman [sic] arrested by immigration officials at a Texas courthouse where she sought protection from domestic violence is set to find out whether she will be indicted by a grand jury for illegal re-entry to the US.
Irvin Gonzalez has been held in the El Paso County jail since being held on 9 February by federal agents moments after being granted a protective order by a judge. The case prompted a national outcry, with women's rights advocates arguing that the arrest risks discouraging undocumented people in violent situations from contacting law enforcement for help.
[Undocumented Woman [Sic] Arrested After Seeking Protection Prepares For Possible Indictment, by Tom Dart, The Guardian, March 2, 2017]
Instead of being happy to be rid of a mentally ill professional criminal and illegal alien, El Paso County officials are more concerned about helping him.
Gonzalez and county officials believe that the agents acted after a tip-off from her alleged abuser.
Why would these Mexican county officials care and have meetings about an arrest of a criminal?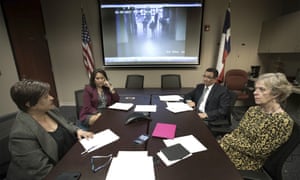 Mexican El Paso County Officials Meeting About Arrest Of Illegal Alien
One of the reasons that Gonzalez was arrested in the building was that agents feared that court officials would help her escape, so sources tell me.
Unfortunately, we have this problem because President Trump, Attorney General Sessions, and Secretary Kelly are not taking action to put down these local officials who are interfering with Federal immigration enforcement.
Readers can contact U.S. Attorney Billy Williams here at1000 SW Third Ave, Suite 600, Portland, Oregon 97204, (503)727-1000, and demand criminal prosecution of judges who interfere with Federal law enforcement.